MS Psychology Program Details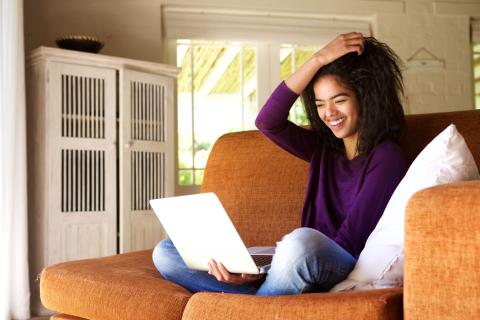 MS in Psychology Program Duration
The MS in Psychology program requires six or seven quarters of coursework, depending on the chosen concentration. Those who are admitted to Palo Alto University's PhD program transition directly into PhD coursework during the summer quarter after completing this program. Students have a maximum of five years to complete the program.
Work and School Scheduling
Most students can maintain full-time employment while completing this program. 
Earn a Terminal Degree
Students in the Generalist, Tech and Mental Health, and Forensic Psychology concentrations will automatically be awarded the MS in Psychology degree upon successful completion of all graduation requirements.
Students in the PhD Prep Track who successfully complete all academic requirements are awarded the MS in Psychology degree. Those who complete the PhD in Clinical Psychology earn an MS in Clinical Psychology, which supersedes the previously-earned MS in Psychology. 
Transition to PhD Program
Students in the PhD Prep Concentration who meet academic qualifications may interview for admission to the PhD program during the summer after their first year. Those who are offered and accept admission to the PhD program begin PhD studies during the summer quarter after completing their master's coursework. Admission to the PhD program is selective, and admission is not guaranteed. 
View Coursework Details
Learn More About PAU's Student Services
Faculty Advisors
All students in the MS in Psychology program are assigned an academic advisor upon entry into the program. The primary role of the advisor is to assist with academic planning and to provide guidance on any personal or interpersonal issues that may arise. Because learning online can present unique challenges, academic advisors also serve as online success coaches, checking in with students monthly by phone, email, or both. The first meeting with an advisor is in an online video chat format. PhD Prep Concentration students and advisors meet face to face during the one-week intensive course at the PAU campus in Palo Alto. Throughout the program, students also have quarterly meetings to ensure that all their needs are being addressed. Students are strongly encouraged to be proactive and contact their advisors as soon as they have questions or if any difficulties arise.
At the beginning of the program, all students attend an orientation via web conference to ensure that everyone starts out on the same page with respect to academic expectations, online learning formats, available services, where to turn when needing assistance, etc.
Student Assistant Advisor
A student advisor is available for help, support, and proctoring. The student advisor is a PhD student who has successfully completed the MS in Psychology program online.
Student Feedback
Students are required to submit written evaluations of all courses each quarter. This informs the PAU faculty and administration of our strengths and weaknesses as we strive to deliver the best possible program.
Video Conferencing Orientation and Advising Sessions
A live orientation is available and required before courses start. In addition, the Student Assistant Advisor and the program director schedule quarterly video conferences. Moreover, the program director is available throughout the program for individual academic advising sessions.
Academic Resources and Administrative Support
Whether enrolled in an on-campus or online program, all students are members of the PAU community and have access to the full range of student services, including:
Research Library
Office of Student Services
Office of Financial Aid
Student Organizations
Academic Requirements for PhD Admission. Students who satisfy the following requirements can gain acceptance into the PhD program:
Prerequisite Courses
Students need not have a bachelor's degree in psychology to enter this program. However, they must complete four prerequisite bachelor's level classes. Each is a prerequisite for a specific MS in Psychology program class.
| | |
| --- | --- |
| Prerequiste | MS Psychology Class |
| Developmental Psychology | PSYS501 Child and Adolescent Development |
| Abnormal or Personality Psychology     | ASMT500 Psychopathology I |
| Physiological Psychology | PSYS505 Neuropsychology |
| Statistics | MTHD509 Research Methods and Statistics |
Grades
Students must complete all seven quarters of the program, maintaining a minimum GPA of 3.0 with:
No failing grades
No more than one B-minus
No more than one incomplete
Course Sequences
| | | |
| --- | --- | --- |
| Sequence | Classes | Units |
| Research (12 units) | MTHD509 Research Methods and Statistics I | 4 |
|   | STAT510 Research Methods and Statistics II | 4 |
|   | STAT511 Research Methods and Statistics III | 4 |
| Psychopathology (6 units) | ASMT500 Psychopathology I | 3 |
|   | ASMT501 Psychopathology II | 3 |
| Clinical Foundations (7 units) | CLIN500 Ethics in Clinical Psychology | 3 |
|   | CLIN501 Professional Standards I | 1 |
|   | CLIN515 Clinical Interviewing | 3 |
| Psychological Science (21 units)  | PSYS500 History and Systems | 3 |
|   | PSYS501 Child and Adolescent Development | 1.5 |
|   | PSYS507 Adult Development and Aging | 1.5 |
|   | PSYS502 Cognitive Bases of Behavior | 2.5 |
|   | PSYS504 Affective Bases of Behavior | 2.5 |
|   | PSYS505 Biological Bases of Behavior | 2.5 |
|   | PSYS509 Psychopharmacology | 2.5 |
|   | PSYS511 Social and Personality Psychology | 3 |
Normally, all required coursework is completed by the end of the second spring quarter following matriculation. Any deviations from this timetable must be approved by the Master's Student Evaluation Committee.
See the Curriculum page for specific classes and scheduling.
Interview
Each student must interview with the MS to PhD bridge faculty.
Starting the PhD Program
Those continuing to the PhD program, an on-campus program, need to relocate to the Palo Alto area. Students begin PhD coursework during the summer quarter, completing two online courses that are prerequisites for clinical work in the PhD program: Psychometric Theory (4 units) and Introduction to Psychotherapy (3 units).
MS in Psychology students accepted into the PhD program are expected to start their clinical work during the fall quarter of the first year of their PhD program. By that time, they must have completed the two summer courses listed above and also pass the clinical foundations competency exam, which is typically given in late August, and the research competency exam (at either the beginning or end of the summer).
Transition to the PhD Program
The MS in Psychology program was developed specifically to give students an opportunity to demonstrate that they have the ability to handle doctoral-level work at Palo Alto University. The hope is that every student admitted to this program in the PhD Prep Concentration will successfully transition to the PhD program. The Student Progress Committee meets quarterly, approximately two weeks after grades are submitted, to review the progress of all students in the program. Their goal is to identify and provide guidance to any students who may be encountering problems.
Students who wish to continue to the Palo Alto University PhD program will complete a brief application. Interest in and qualifications for the PhD program are discussed with the program director and advisors during the first year of studies.
Qualified MS in Psychology students receive conditional PAU PhD program acceptance letters in the fall of their second year, after completing the MS to PhD interview process. The final offer of acceptance is based on grades earned during the second year of coursework and passing competency exams after completion of all MS in Psychology coursework.
Students complete master's coursework by the end of the spring quarter and are then notified when to take their competency exams.