PAU NEWS – AUGUST 2018
Thursday, August 9, 2018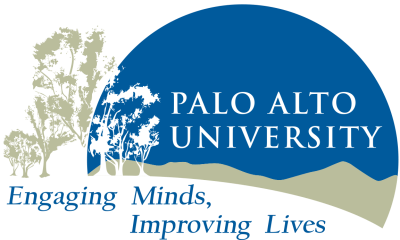 An update for the Palo Alto University community
To the Point - From PAU President Maureen O'Connor, Ph.D., J.D.
PAU at APA 2018 – Join Us!
I am delighted to report that over 100 PAU faculty, students and alumni are among the many psychology leaders who will share their knowledge at the American Psychological Association 2018 Convention, Aug. 9-12 at the Moscone Center in San Francisco. The annual event is the world's largest gathering of psychologists and psychology students, hosting 11,000-plus attendees from all areas of specialization, including research, practice, education, and policy. I encourage you to learn more about PAU at APA by exploring the comprehensive participation list we've compiled or by reading our news story.
I am also proud to announce that two of our wonderful graduate students, Abigail Kramer, M.S. and Elizabeth W. M. Choi, M.S. will receive Blue Ribbon Awards at APA for their research. This prestigious recognition is awarded to Elizabeth for her work in clinical neuropsychology and to Abigail for her research in clinical psychology. They will present highlights of their work during the award ceremony on August 10. Read more
Need a break from the APA action? Please join me and your PAU colleagues on Aug. 9 at our annual PAU/APA Mixer for alumni, faculty and students. This fun, casual get together takes place from 6pm to 9pm at the W San Francisco Hotel. I hope to see you there!
See below for more events.
News
Last Call to Register for Forensics Summer Institute Aug. 20-24
PAU and CONCEPT Professional Training, a global leader in online training in forensic mental health, are co-hosting the Summer Training Institute 2018, featuring six workshops by renowned experts in forensic mental health. Workshops are eligible for Continuing Education credit and discounts are available for PAU students and alumni. Read more
Talk by Internationally Renowned Expert on Psychopathy and Forensic Assessment Aug. 23
In conjunction with PAU's Forensics Summer Institute, the PAU community is invited to hear Dr. Martin Sellbom present: "There…and back again: A tale of psychopathy as a diagnostic construct." Dr. Sellbom specializes in court-ordered forensic psychological evaluations and evaluations for public safety positions. He has been featured in over 185 peer-reviewed publications and is Editor-in-Chief of Journal of Personality Assessment. This free seminar will take place 1-4pm at Wisniewski Hall, Allen Calvin Campus. Read more
Veteran Marketing Executive Camille Watson Joins PAU Board of Trustees
Camille Watson began her career in marketing and business management at Procter & Gamble and The Clorox Company. She was director of marketing for Netflix, Inc. and vice president of marketing at Stubhub, Gamefly, and LivingSocial. With a desire to work for mission-driven organizations, and an interest in health and wellness, she assumed chief marketing officer positions at Rally Health and JumpstartMD. Watson received a Bachelor of Arts in psychology and a Master of Business Administration from Stanford University.
ReVisioning Medicine Weekend Workshop & Public Talk with Deena Metzger in October
Inspired by a keynote address she gave at the American Holistic Medicine Association's annual meeting, healer and medicine woman Deena Metzger will lead a weekend workshop for medical and mental health providers focused on non-harmful healing practices. The workshop, Oct. 26 to Oct. 28 is geared to physicians, psychotherapists, medical and mental health professionals and healers. The public talk on Oct. 25 is open to the public. Read more
Events Calendar
| | |
| --- | --- |
| Aug. 9-12 | American Psychological Association (APA) 2018 convention, San Francisco More |
| Aug. 9 | PAU at APA: Mixer for Alumni, Faculty and Students, W San Francisco Hotel More |
| Aug. 20-24 | Forensics Summer Training Institute, Los Altos More |
| Aug. 23 | Talk by Internationally Renowned Expert on Psychopathy and Forensic Assessment Aug. 23 More |
| Oct. 18-21 | 2018 National Latina/o Psychological More |
| Oct. 26-28 | ReVisioning Medicine & Public Talk (Oct. 25) More |
Faculty News
PAU's Janice Habarth, Ph.D., is Named a 2018 Fellow of the Institute for Academic Feminist Psychologists
PAU Assistant Professor of Psychology Dr. Janice Habarth was recently named a 2018 Fellow of the Institute for Academic Feminist Psychologists (IAFP). Following a competitive application process, Dr. Habarth gave a presentation entitled, "Socially Normative Attitudes in Everyday Life: Stigma, Stress, and Healthcare Provider Competencies" at the 3rd IAFP Conference in June. Read more
Professor Paul J. Marcille Shares CPA Statement on Child Separations
Paul Marcille, PAU professor and director of undergraduate programs, as well as president of the California Psychological Association (CPA), worked closely with the organization to issue a statement on the separation of children from their parents at U.S. borders. CPA, which has taken stands and action on important social issues, issued a statement on behalf of the Association and its Immigration Task Force about the psychological trauma that separating children from their parents at US borders can cause. The task force created recommendations for mental health professionals for working with immigrant families, and a provider locator tool that identifies qualified California psychologists willing to provide low to no-fee services. CPA also is working on several other important issues including the creation of a Gun Violence Task Force and support for DACA kids. Read more
Quick Bits
International Students Travel to PAU for Summer Clinical Interviewing Intensive Class
A cohort of international students who attend master's programs online from their home country, visited PAU to attend a one-week intensive clinical interviewing intensive class. They also visited clinical sites to find ways to upgrade services in their country. Read more
PAU Institute for International Interventions for Health (I4Health) Offers Qualtrics Support
Students, faculty, and staff needing assistance with designing complex projects and surveys using Qualtrics now have an in-house resource— PAU's Institute for International Interventions for Health. For help using Qualtrics, which makes research simple and empowers users to capture information in one place, email Qualtrics@paloaltou.edu.
Follow us!