Alumni Transform Santa Clara County's Registrar of Voters (News, Alumni Spotlight)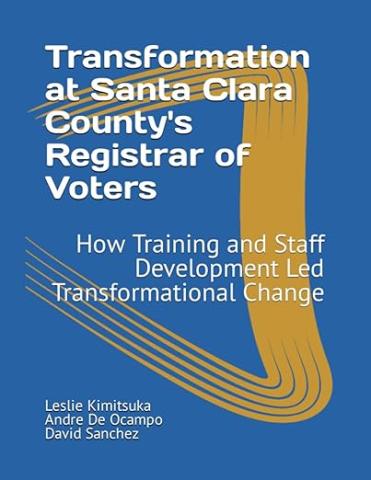 New Book Tells Story of How They Led the Organizational Change
  In 2017, when former Palo Alto University (PAU) faculty member Leslie Kimitsuka was charged to lead an organizational transformation program for the Santa Clara County Registrar of Voters (ROV), she knew just the students who could help lead this endeavor.   Andre De Ocampo and David Sanchez, both graduates of the class of 2015, had studied
Business Psychology
together at PAU and were ready to create change. The ROV had just undergone an audit and the department's leadership was ready to commit to making significant changes to improve efficiencies so to create a more positive and productive work environment. Their goal was to lead a transformation that would help the organization navigate the complex world of elections. In leading this endeavor, Andre and David relied heavily on many of the psychological principles they learned at PAU, leveraging such things as cognitive frameworks, strategic interventions, effective collaboration and communication practices.    According to Kimitsuka, leading a transformation or any major change program is an extremely challenging endeavor where more than 70% of such efforts fail. But, now six years into working to improve the processes and systems in place at the ROV, the organization continues to achieve higher levels of employee engagement, organizational performance, and outstanding service to the community. By providing the necessary resources, training, and systems, they empowered the ROV workforce to excel in their roles. This approach not only improved efficiency but also fostered a sense of ownership and pride among the employees.   "The employees and divisions within ROV are moving much more agile and are well aligned," says De Ocampo.  "They are finding they have more time to accomplish their goals than previously thought. Teams are doing more and taking on challenges they might have held off on in the past."   Sanchez says their work in the elections industry is particularly rewarding because "we are enabling our community's right to vote and making sure they get the information they're supposed to, to cast their vote."   With their proven success, the team was eager to tell their story and share their experience, approach and lessons learned with all who aspire to do the same. As a result, they co-authored a book which was published in February 2023,
"Transformation at Santa Clara County's Registrar of Voters, How Training and Staff Development Led Transformational Change."
 Knowing that many organizations, especially small businesses, government agencies and community groups, do not have the OD (Organizational Development) background to build a proper transformation framework. The book's methodology simplifies the approach, creating a step-by-step guide, empowering any practitioner to apply the concepts to any organization or industry.     The book bridges the gap between theory and practice. The authors tell their story using metaphors and mental frames that readers can easily relate to. "We really wanted to get the book into the hands of people who have the capacity to create effective change for others, like our fellow county departments, universities, and local groups that would benefit from learning from our experience," says De Ocampo.   As the group reflects on their journey, they are proud of the progress they have made and are encouraged that the roadmap they have laid out in their book is now being used by other Santa Clara County agencies and departments who want to transform their organization. Since the book has been published, De Ocampo and Sanchez have conducted many internal trainings and other meetings sharing their information and expanding their concepts to other county departments. "It truly comes down to helping as many people as possible and creating as much positive change that lasts beyond a onetime effort." says De Ocampo.   The two alumni are the first to admit that achieving true transformation is not a quick or easy endeavor. They compare it to rock climbing, where it's hard to see the progress when taking small steps but it all becomes evident when looking back at the progress to date.   They are also excited about the upcoming 2024 elections and are ready to see the team's efforts come to fruition. "We're approaching an election year where the ROV is really going to get tested, yet again. We've built the systems, created the procedures, and strengthened our processes. Now it's time for the rubber to meet the road," says De Ocampo.