PAU Salutes Dr. Leonard Beckum: Professor Civil Rights Advocate, Former Police Officer
Friday, September 7, 2018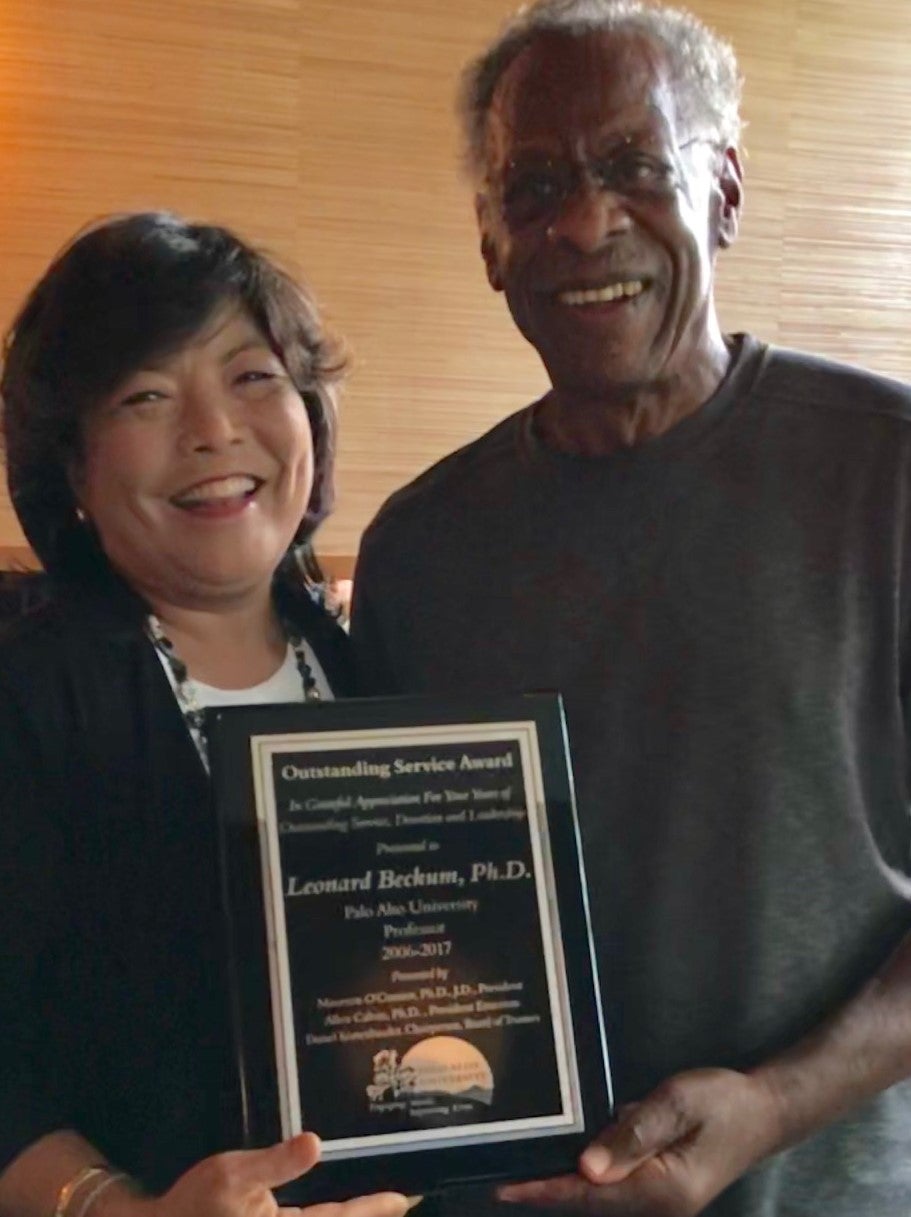 Recently retired PAU psychology professor Leonard Beckum was recognized for his service to the campus during a special dinner last month. He was presented with a resolution from PAU's Board of Trustees and an 'Outstanding Service Award" plaque. Beckum was with Palo Alto University from 2006 to 2017. He devoted half his time to the Ph.D. program and the other half to the PGSP-Stanford Psy.D. Consortium program. He was honored for his outstanding service, dedication and leadership.
"Dr. Beckum was a beloved professor with a passion for working with students, many of whom would not have succeeded without his support," said June Klein, PAU vice president for business affairs and CFO. "We are very appreciative for all that he has done for PAU students, as well as his dedication to the University by serving as a trustee since 1984."
Born in 1936 to a family of Louisiana sharecroppers, Dr. Beckum charted a course out of poverty by securing a music and baseball scholarship to Grambling College in Grambling, LA. Over his long and fruitful career, he was a vocational/technical high school teacher, a criminal justice instructor, a community organizer, and a San Francisco Police Officer. Working as a police officer in the 1960s intensified an interest in psychology.
"Growing up at a time of civil unrest and later working as a police officer uniquely influenced and prepared me for a lifetime of research, teaching and diversity while attempting to understand how education impacts the way we think and approach life's challenges and opportunities," he said.
Beckum's professional experience includes: director of WestEd's Center for Educational Equity and director of the Region IX Equity Assistance Center; associate laboratory director and principal investigator at Far West Laboratory for Research and Development; dean of the School of Education, City College, the City University of New York; vice president, vice provost and professor of Public Policy Studies, Duke University; and evaluator and technical assistance provider for the 21st Century Community Centers Program.