Liz McConnell, PhD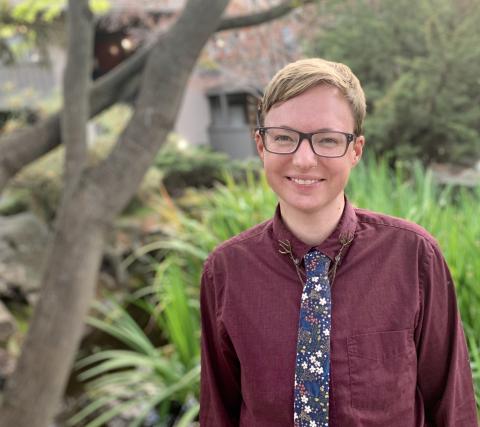 Position:
Assistant Professor
Contact Information:
emcconnell@paloaltou.edu
Education:
PhD, Clinical-Community Psychology, DePaul University (2019) MA, Clinical-Community Psychology, DePaul University (2015) BA, Comparative American Studies & English, Oberlin College (2007)
Biography:
Elizabeth (Liz) McConnell, PhD (she/her or they/them) is a faculty member teaching primarily in the PhD program at Palo Alto University. She completed her doctoral work in clinical-community psychology at DePaul University in Chicago. She also completed a three-year Ruth L. Kirschstein National Research Service Pre-doctoral Fellowship (F31) Award from the National Institute on Drug Abuse with Northwestern University's Institute for Sexual and Gender Minority Health and Wellbeing. Dr. McConnell completed her doctoral internship at the University of Oregon Counseling Center, where she completed a rotation in Training and Supervision and served on the Gender Support Services team.   Dr. McConnell's clinical interests include training and supervision, relational concerns, trauma-informed approaches, group therapy, and sexual and gender minority mental health. At PAU, she supervises students in the Sexual and Gender Identities Clinic within the Gronowski Center.   Dr. McConnell is a core faculty member in the Center for Evidence-based Applied Research (CLEAR). Her research focuses on relational and structural influences on the health and wellbeing of intersectionally diverse sexual and gender minority populations using a variety of methodological approaches, including social network analysis and mixed-methods. She is a member of Divisions 9, 27, 35, 44, and 45 of the American Psychological Association.
Areas of Interest:
Teaching: clinical supervision; clinical skills; diversity & social justice   Research: sexual and gender minority health and wellbeing; relational and structural influences on health; social network analysis; mixed-methods
Websites and Other Relevant Links:
<div><a href="https://clear-research.paloaltou.edu">https://clear-research.paloaltou…;
<div><a href="https://paloaltou.edu/gronowski-center/sexual-genders-identities-clinic…;
<div><a href="https://scholar.google.com/citations?user=hfRHbsUAAAAJ&amp;hl=en&amp;oi…; rel="noreferrer" style="color: rgb(20, 74, 117); margin: 0px; padding: 0px; font-size: 14px; vertical-align: baseline; background: rgb(255, 255, 255); cursor: pointer; outline: none; font-family: system-ui, -apple-system, system-ui, &quot;Segoe UI&quot;, Roboto, Oxygen-Sans, Ubuntu, Cantarell, &quot;Helvetica Neue&quot;, Arial, sans-serif;" target="_blank">Google Scholar</a></div>