PAU Students Attend AICCU Day in the Capitol
Wednesday, March 11, 2020
On February 25th, the Association of Independent California Colleges and Universities (AICCU) hosted their annual Day in the Capitol, during which more than 100 students discussed the importance of the Cal Grant to different legislators, key influencers, and other students who attend independent, nonprofit institutions.
Palo Alto University was represented by six undergraduate students in attendance: juniors Francesca Pedraza, Shuangshuang Zhang, Elizabeth Nguyen, Jocelyn Lopez, Gabrielle Paige, and Jeremy Mayes.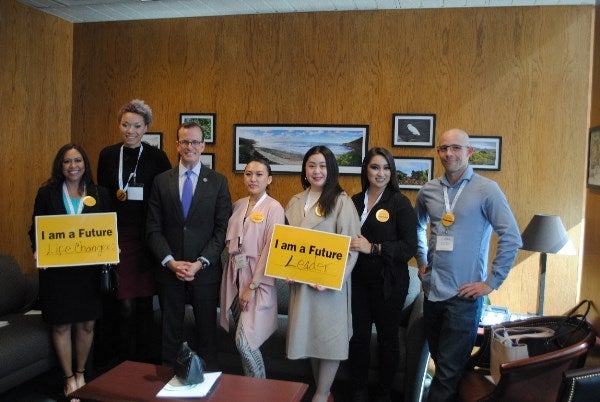 Cal Grant recipient Elizabeth Nguyen chose to attend Palo Alto University to obtain a solid educational foundation in psychology. "With the help of Cal Grant I was able to attend this school," states Nguyen. "I hope to continue to receive Cal Grant and alternative aids in order to continue into graduate school and pursue my dreams." Nguyen's main goal is to obtain PAU's Ph.D in Clinical Psychology and become a psychologist.
During the day, the PAU juniors met with Senator Jerry Hill and Assembly Member Marc Berman where they asked both representatives to support AICCU's budget request of $22.5M, which will increase the Cal Grant award by $624.
The students also shared how the Cal Grant award was beneficial to their education. "Having the Cal Grant gives me the opportunity to reach my goal of continuing my studies to become a therapist," said Jocelyn Lopez.
Francesca Pedraza explained how the Cal Grant helps her two children that receive the award. "Cal Grant, to me, means peace of mind and the proper support to guide my two college students in their school journey to becoming successful citizens that will contribute back to their community with their acquired knowledge and degree," stated Pedraza.
This contingent of six students was the largest group PAU has sent to the annual AICCU Day in the Capitol event to date.