June Klein Elected President of SV Financial Executives International
Wednesday, July 10, 2019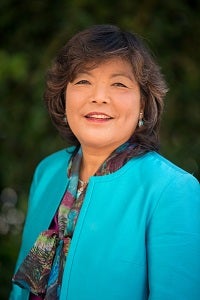 June Rumiko Klein, EdD, MBA CPA, Vice President for Business Affairs and CFO for Palo Alto University, was recently elected President of the Silicon Valley chapter of the Financial Executives International (FEI). Her term officially began July 1, 2019.
Dr. Klein has held executive leadership positions in higher education and high tech for the past two decades. As VP for Business Affairs and CFO at Palo Alto University for the past 17 years, Dr. Klein oversees the Business Office, IT/ERP/Website, Human Resources, Facilities, Research and Grants Management. Dr. Klein was awarded the CFO of the Year Award (non-profit category) by the Silicon Valley Business Journal in December 2015, and the CFO of the Year Award (non-profit category) from FEI Silicon Valley in February 2017 for her work at Palo Alto University.
Dr. Klein earned her B.A. in Business Economics from the UC Santa Barbara, an MBA from UC Berkeley Haas School of Business with an emphasis in the management of technology, and is an active CPA in California. Dr. Klein completed her doctorate in Educational Leadership and Change with an emphasis in Higher Education Administration at the Fielding Graduate University in 2010. Her dissertation was titled "Cultural Intelligence of Students in an Undergraduate Multicultural Studies Course," and she is passionate about diversity and multi-cultural and multi-faith dialogue.
Dr. Klein has held numerous leadership positions in the local community over three decades, serving on both the YMCA and Kiwanis boards in Palo Alto, as well as participating in the Project Safety Net task force on suicide prevention. In 2017, she was appointed to the Santa Clara County Behavioral Health Board and now serves as 1st Vice Chair. Dr. Klein also serves on the steering committee for the Bay Area Business Officers Group.
Financial Executives International is a network of more than 10,000 best-in-business financial professionals, with more than 70 local chapters globally. Members hold influential policy-making positions as chief financial officers, treasurers and controllers at companies from every major industry.
Since 1976, FEI Silicon Valley has helped financial professionals build relationships that last a lifetime by providing opportunities for networking, development and advocacy across generations. Members come from public and private companies throughout Silicon Valley, the Peninsula, East Bay and the San Ramon Valley.