June Klein, Ed.D, Named Chair of Santa Clara County Behavioral Health Board
Monday, October 7, 2019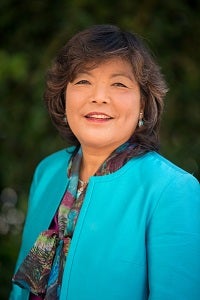 The Santa Clara County Behavioral Health Board (SCCBHB) voted in September to install June Klein, E.D., Vice President of Business Affairs and CFO of Palo Alto University (PAU), as the Board's chair for fiscal year 2019 – 2020. PAU is a leading school of psychology and counseling in Palo Alto. Klein also serves as the president of the Silicon Valley Chapter of Financial Executives International (SVCFEI).
"The Santa Clara Behavioral Health Board is vital to the mental health of our communities," said PAU President Maureen O'Connor. "Dr. Klein consistently steps forward to volunteer in our community, lending her expertise to a wide variety of important efforts. I couldn't be more proud that she was elected chair of the Santa Clara County Behavioral Health Board. She will be a tremendous asset to the work of the Board as an advocate for mental health services."
The SCCBHB is composed of members of the community at large, clients, and family members of clients of the behavioral health system. The board's duties include review and evaluation of the community's behavioral health needs, facilities and special problems; advising the Santa Clara County Board of Supervisors and the county behavioral health director on the County's behavioral health program; and submitting an annual report to the Board of Supervisors on the needs and performance of the County's behavioral health system.
"I have long been involved as a volunteer in community mental health issues," said Klein. "This appointment means a lot to me as I am dedicated both personally and professionally to ensuring quality mental health services are available to all who need care."
Klein has held executive leadership positions in higher education and high tech for 20-plus years. She received the CFO of the Year Award/non-profit category from SVCFEI in 2017 for her work at PAU, and the CFO of the Year Award/non-profit category from Silicon Valley Business Journal in 2015. Her professional memberships include the American Institute of Certified Public Accountants, and she is on the boards of the Palo Alto Family YMCA and the Kiwanis Club of Palo Alto."
She received her Doctorate in Education from Fielding Graduate University, an M.B.A. from Walter A. Haas School of Business, U.C. Berkeley, and a B.A. in Business Economics from University of California, Santa Barbara.
More information about June Klein
More information about the Santa Clara County Behavioral Health Board