PAU Ph.D. Candidate Gabrielle Agin-Liebes Publishes Cutting Edge Psilocybin Research
Monday, March 2, 2020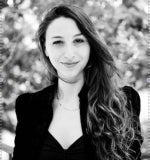 The research of PAU Ph.D. candidate Gabrielle Agin-Liebes has made headlines recently. Ms. Agin-Liebes and colleagues found that a single dose of psilocybin could lead to decreases in depression and anxiety in people receiving treatment for cancer. In addition to the immediate improvements, the researchers found that the psychedelic drug helped a majority of patients for more than four years.
Their study, "Long-term follow-up of psilocybin-assisted psychotherapy for psychiatric and existential distress in patients with life-threatening cancer," was published in January 2020 in the Journal of Psychopharmacology.
Read it here.
Ms. Agin-Liebes's interest in this area of research began in 2011 when she learned about a trial taking place at NYU Medical Center. The trial examined the efficacy of psilocybin-assisted psychotherapy to treat cancer-related existential anxiety. The studies Principal Investigator, Dr. Steve Ross, delivered a grand rounds talk about the research and Agin-Liebes was fascinated, finding the participant stories of relief and healing "very powerful and moving."
She volunteered as an RA in Dr. Ross's lab and was quickly hired as a research coordinator. During this time, we also received funding to co-lead a qualitative investigation of the parent trial. She interviewed a subset of participants in the parent trial after their psilocybin sessions about their subjective experiences and published findings in two papers in the "Journal of Humanistic Psychology" in 2017. This work inspired her to pursue graduate training in clinical psychology. She learned about Ph.D. program at Palo Alto University from a friend of a friend who had completed the program.
"PAU has provided me with a substantial amount of support and resources and helped me secure top-notch practicum placements. I also appreciated the flexibility and support PAU provided me to focus my dissertation and research on psychedelic-assisted therapy at a time when these trials were still in their early stages," said Ms. Agin-Liebes.
Research on psychedelics is still largely unsupported by federal agencies such as the National Institutes of Health. This dates to the 1970 Controlled Substances Act, signed into law by President Richard Nixon, that put an end to federally-funded research with psychedelic drugs. Prior to that, Ms. Agin-Liebes says, there were promising trials and findings with over 40,000 research participants that took place throughout the 1950s and 1960s.
With private funding and more mainstream interest, she says, "The next stage of clinical research of psilocybin-assisted therapy/interventions will need to involve more rigorous controlled trials with larger and more diverse/generalizable samples."
Recent media coverage could help with that. Ms. Agin-Liebes's team's research has been covered by Healthline, Newsweek, CNN, and other publications. She said, "While this work has not yet entered the mainstream, I feel much more comfortable and confident discussing my research and interests in this area than I ever have. Leading researchers…are finally beginning to consider psychedelic interventions a serious domain of scientific inquiry, in large part to the proliferation of rigorously designed and executed trials and publications."
What's next for Ms. Agin-Liebes, a native of NYC? She currently lives in New Haven where she is completing a clinical internship at VA Connecticut and participating in clinical research with psilocybin-assisted therapy for Major Depressive Disorder at Yale School of Medicine. She eventually plans to return to the Bay Area.
Her work could expand as well: "I am personally interested in the applications of psilocybin-assisted interventions to treat substance use and trauma-based disorders, which are characterized by rigid thought patterns, experiential avoidance, and negative affect," she said.
Gabrielle Agin-Liebes Bio
Gabby is a PhD candidate in Clinical Psychology at Palo Alto University (expected graduation June 2020) currently conducting her pre-doctoral internship at the VA Connecticut Healthcare System. Gabby is a member of PAU's Early Intervention Clinic, a clinical research lab co-directed by Drs. Matt Cordova and Joe Ruzek dedicated to developing and evaluating early therapeutic interventions to prevent trauma-related problems. Gabby's clinical training has focused on providing evidence-based treatments for addiction and trauma-based disorders. Gabby's primary focus of research has examined psychedelic-assisted interventions to reduce anxiety, alcohol abuse, depression and post-traumatic stress. She served as the senior project manager of a psychedelic research lab at NYU School of Medicine that published findings (2016) of one of the first randomized controlled clinical trials examining psilocybin-assisted therapy to treat psychiatric distress associated with cancer. She received funding to conduct mixed methods analyses for the psilocybin-cancer study, authoring three peer-reviewed publications, including serving as the lead investigator/author on a recently published (2020) long-term follow-up paper that found sustained anxiolytic and antidepressant effects at a 4.5 year follow-up (after the study crossover). She has also served as a study therapist and qualitative researcher for psilocybin-assisted therapy trials at UCSF and at Yale (currently underway).