Alumni Events
Enjoy networking, community service, reunions, and lectures, with your fellow alumni on and off campus. Take part in these opportunities to strengthen your career, renew old friendships and foster new ones.
PAU Common Book PartyFriday, January 10, 2020, 5-7pm (PAU Allen Calvin Campus)
Join us for PAU's First Annual Common Book Party discussing the book Make Your Home Among Strangers by Jeanine Capo Crucet. Everyone is welcome to attend, whether you have or have not read the book. We'll be gathering to eat a bit of Cuban food, chat about our own and the book's characters lives and experiences.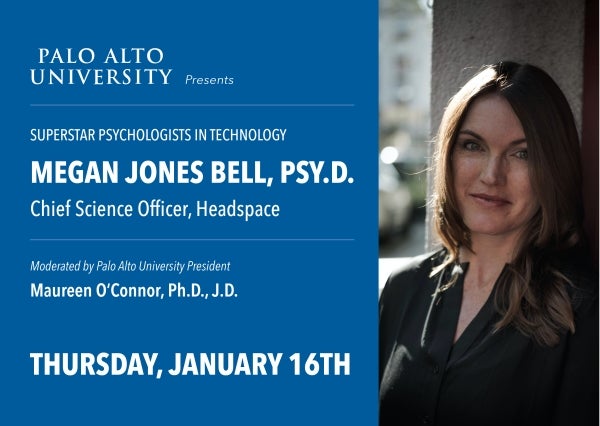 PAU's Superstar Psychologists in Technology Series Presents Headspace CSO and PAU-PGSP Alumna Dr. Megan Jones - Thursday, January 16, 2020, 5:30pm (PAU Los Altos Campus)
Dr. Megan Jones Bell is Chief Science Officer at Headspace, a leader in the field of digital health and visionary in making mental health care more effective, affordable, and accessible to all populations.
Alumni Winter Mixer in SF Bay Area - Thursday, February 27, 2020, 5:30-8pm (Nola Palo Alto, J Foss Lounge)
Please join co-hosts President Maureen O'Connor & Librarian Scott Hines to relax, unwind and mingle at Nola.This is a great opportunity to reunite with former classmates in your cohort and meet other alumni who live in the area. Please feel free to share this invite with other alumni that you know.
Save the Dates for the following events! More details coming soon.
Spring Alumni Mixer - Friday, May 1, 2020, 5-7:30pm, Sens SF, San Francisco (Pending)
PAU Commencement 2020 - Saturday, June 20, 2020, San Jose Civic Center
Alumni Mixer at the APA in D.C. - Friday, August 7, 2020, 5 - 7:30pm. Marriot Marquis Convention Center
Fall Student & Alumni Mixer - October 2020, Alpine Inn, Palo Alto