Alumna Diane Raleigh, Ph.D. 'Just Do It' Approach Changes Lives in Africa
Many years before Nike launched its famous tag line, "Just Do It," Diane Raleigh, Ph.D., co-founder and graduate of the Pacific Graduate School of Psychology (PGSP), now Palo Alto University, coined the phrase. This clinical psychologist doesn't just talk the talk, she has walked the walk her entire life, and inspired countless others to do the same.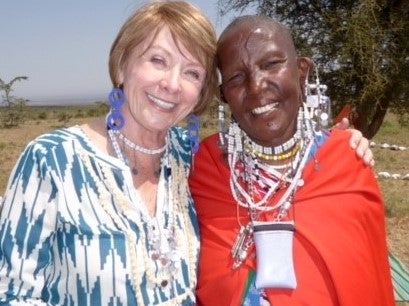 While serving patients in her private practice for 37 years, Dr. Raleigh has had a tremendous impact on communities as far-flung as Nigeria and Tanzania. A woman of seemingly boundless energy, perseverance, with a passion for helping others, she was recognized in 2015 with an award from the Point of Life organization, a global community that inspires, equips, and mobilizes individuals and organizations to take action that changes the world.
Traveling in Africa as a young Peace Corp volunteer in the 1960s, her eyes were opened to a world of cultural diversity and the severe challenges in impoverished communities like Owerri, Nigeria, where she taught English and established the Motherless Baby Home for babies whose mothers died in childbirth.
After returning to Palo Alto she was a stay-at-home mom until she had an experience that would lead her to participate in the founding of PGSP. She spoke at the San Mateo County Court in support of a bill for people on welfare, but she was not taken seriously. As she left the courtroom in frustration, she said to herself, "The next time you hear from me, you will call me doctor!"
Her path led her to a job as a social worker in Newark, New Jersey in 1965. It was her experience there that led her to decide to get a Ph.D. to increase her knowledge of the field of psychology, and increase her power to make a difference. She joined with a local group of 50 social workers and counselors as they set about establishing PGSP in 1975. "The camaraderie I experienced during that year-and-a-half was amazing!" Dr. Raleigh remarked.
Africa kept calling her back. She returned in 2009 looking for a new venture. "In Tanzania, I met a midwife in the impoverished Maasai village of Olmoti in the northeastern region. The woman, Yaya, said that the women had nowhere to have babies, and no medical care. She pleaded for help in building a clinic. I had found my project!"
Over the next ten years, Dr. Raleigh's leadership and dedication has transformed and created a bright future for the Olmoti community with just a handful of volunteers and limited paid Olmoti medical staff. There's a health clinic, clean water, sanitation, and schools they can call their own. "I listened to what they said they needed, and we built it from the bottom up. I still spend up to 20 hours a week supporting the community but the bottom line is that at this point it's sustainable, with or without me," she added. The latest project is the first-ever playground. "The kids' eyes were as big as saucers," Dr. Raleigh laughed. "I feel I have gained so much more from my experience with these beloved people than I have given."
When asked what advice she has for PAU students she remarked: "You don't need A's. Don't put too much pressure on yourself. Do the best you can. Figure out what you want to do…and just do it!"